I LOVE social media. I think it is so fun and a brilliant way to connect with new people. I also have a knack for finding clients through social media channels and really growing both my brick-and-mortar business as an esthetician as well as my online makeup and skin care business by using social media.
My main stomping grounds are Facebook and Instagram. I tried SnapChat for a while but I lost interest, but I bet that could work in your favor, too.
I figured that with so many people reaching out to me for coaching in their Esthetics businesses that I could highlight some of my favorite social media strategies - and I'm kicking it off with a 7 day Social Media Challenge!
If you find these useful, let me know!
Find me on facebook or join my group "The Empathetic Esthetician"
share your inspired future
Get ready to shift the energy of your social media toward high quality relationships, trust and client leads!
Our first challenge may be intimidating for you - but that is a GOOD THING - it means it will change you!
DAY 1 TASK: I want you to share your INSPIRED FUTURE with your network. ⭐
What is an "inspired" future, you ask? Your wildest dreams, the butterflies in your stomach, #liveyourbestlife future.
Did your stomach flip yet?
I know this feels vulnerable - joy often does. It is more brave to risk joy than to stay stuck and struggle. It is all hard work - choose your hard.
I know I would rather choose joy, and that is why I am here leading you guys. 🙌❤
Joy is magnetic. Big dreams are beautiful and inspiring. And guess what? When people Like, Know and Trust you, they want to cheer you on and help you get to your goals.
[ 📖 (Audio) Book recommendation: Why She Buys ]
Example Post:
"You guys, I'm kind of peeing my pants a little bit. I've been challenged to share my big inspired future for my esthetics business with my friends and family, so here goes!
One day I want to own a big resort day spa in Guatemala. I am so passionate about high quality spa services that transform the skin and soul. Have you been to Guatemala? There is something so beautiful and magical about that place. I'm called to be there and to bring such joy to everyone in that space.
I know that right now I'm still in esthetics school and I have 4 more months until I graduate, but it is never too early to dream big and share my joy for my future. I'm so thankful for all of my friends and family who have supported me this far, my heart is on fire for this new chapter and a chance for me to serve you all in such beautiful ways.
💕"
Make sure to:
⭐ Bring BIG EMOTIONS - talk about your family, why you love this work, your joy, healing, etc.
⭐ Post in the late afternoon or evening, Sunday nights are BIG for engagement and talking about goals as people get ready for the week
⭐ Interact with all the comments! Facebook algorithm loves comments.
Now start digging deep and compose your post! I wanted to share this earlier in the day so that you have time to think & create something meaningful to you.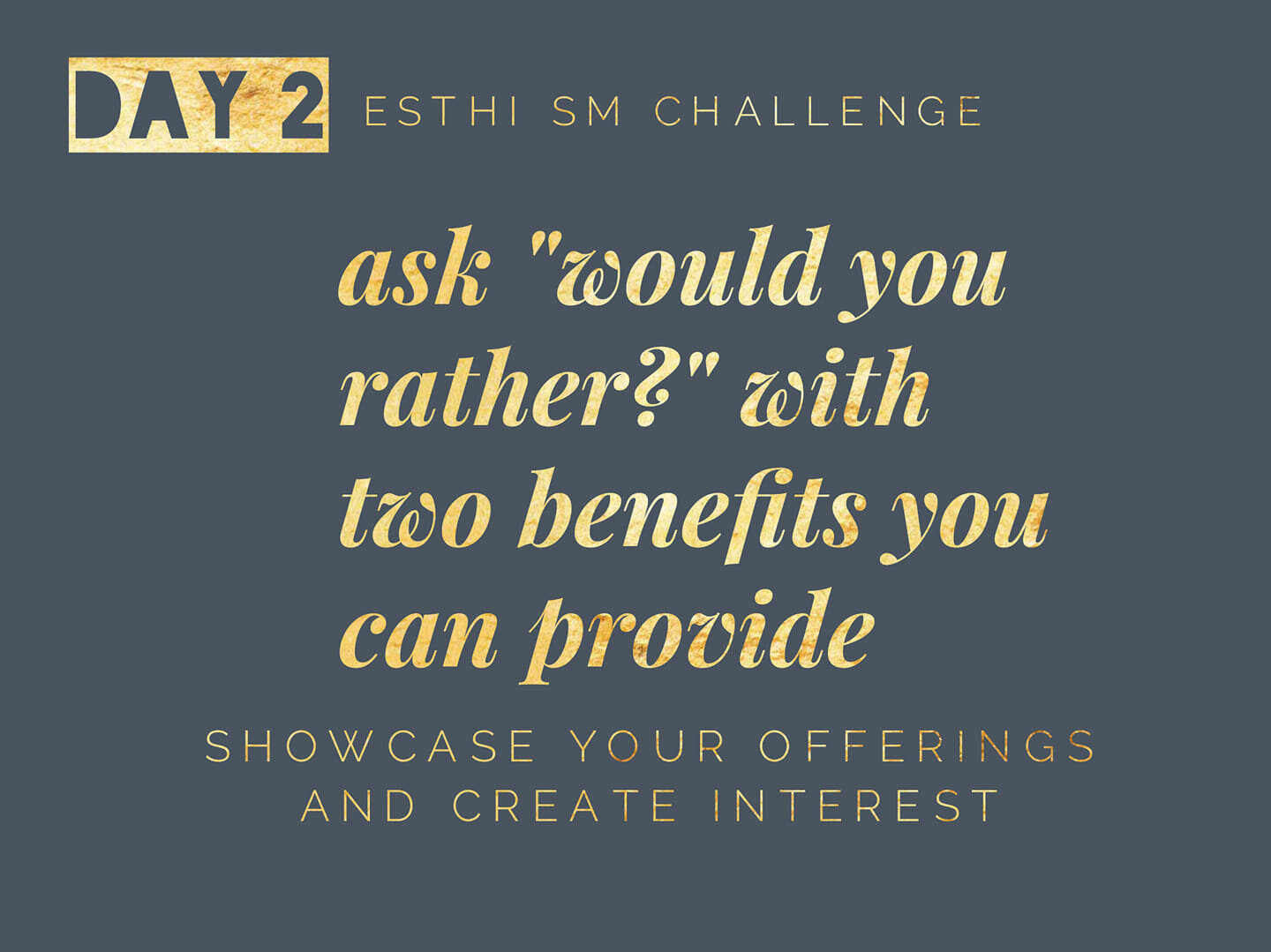 Our goal is to drum up some interest in our services and also learn more about our network's preferences!
Make a simple text post or add a simple photo (While the facebook poll feature is fun, we need comments to create conversations!) and ask your guests "Would you rather...?" Between TWO OR MORE BENEFITS that you offer.
Spoiler, they might say BOTH or ALL OF IT!
Example Post:
"Darlings, I'm doing some research.
Would you be more excited in a facial for
hot aromatic steam towels
or
a moisturizing hand and arm massage?"
Or
"Hey friends!
I'm hoping to learn more about my network preferences- when it comes to lash services are you looking for longer, thicker or darker lashes?"
⭐ Remember, interact with every comment, ask questions to learn more like "Okay! Have you had a facial before?" Or "I love dark lashes too! Do you wear mascara every day?"
⭐ You'll be surprised to see who comments - people love to be helpful and share their opinion! At the same time they are learning more about you and developing trust with you as someone who can take care of their desires!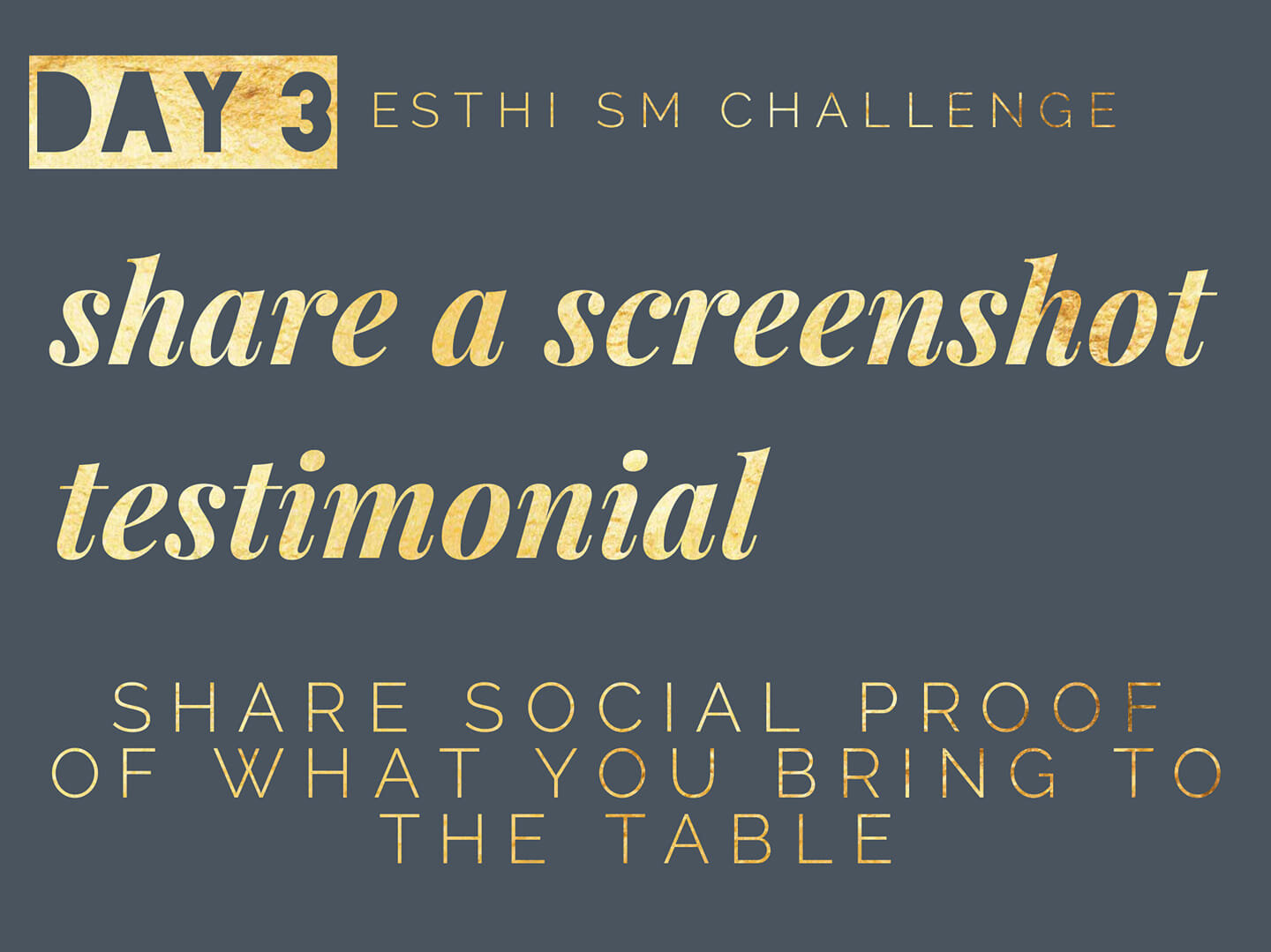 share a testimonial screen shot
This one MIGHT feel a little uncomfortable. Or a lot.
1. I need you to privately message someone to give you a testimonial of their experience with you AND if you can share it anonymously.
2. Screenshot it. (Listen, I know it may feel odd but this is so #empatheticbeauty right here - it is personal, relatable and authentic)
3. Use a photo editor to block out the name and photo and irrelevant parts of the conversation
Then write a quick blurb about how you are thankful for the review and ask a question like "Have you ever had such a great experience with your esthetician?"
Example Post:
[Screenshot] "I'm so glad I saw you for my brows - you listened to what I wanted and even filled them in with makeup - it was the first time I felt "on fleek" as the kids say!"
I'm so thank for my client feedback! Have you had a good experience with your brows lately?

⭐ You may want to ask more than one person for a review so you can pick from them or in case they take a while to reply (you can save another review post for later!)
⭐ You may not get a ton of comments on this post, but your network will SEE it and it will speak volumes toward building trust with future clientele
This post is little different. It doesn't pertain directly to being an esthetician, but definitely has a lot to do with your business.
I don't know about you, but I feel incredibly fortunate to have a job that doesn't "feel like work." My cup is overflowing every day from my work as an esthetician. It brings me so much joy and inspiration.
Today's task has 2 parts:
1) Comment something joyful, uplifting or encouraging on 3 different posts or friends timelines - these are JOY DEPOSITS
2) Share an inspirational quote that SPEAKS TO YOU right now. You can make a caption like "These words speak to me at this season of my life. I wonder if they will light someone else up, too."
⭐ You want to be known as a source of joy and inspiration - joy is so magnetic! Leave joy sprinkled on others posts all over SM
⭐ People want services from those who love their jobs - if they know you are a happy person they subconsciously believe they will be happy leaving the spa with you too
⭐ Use a photo text app like "WordSwag" to superimpose the quote on your face - it makes for some fierce personal branding
Have fun with this!
I go to Pinterest for my quotes frequently when I need fresh words.
More stuff on personal branding tomorrow, but for now - comment when you've made 3 joy deposits and screen shot your own quote!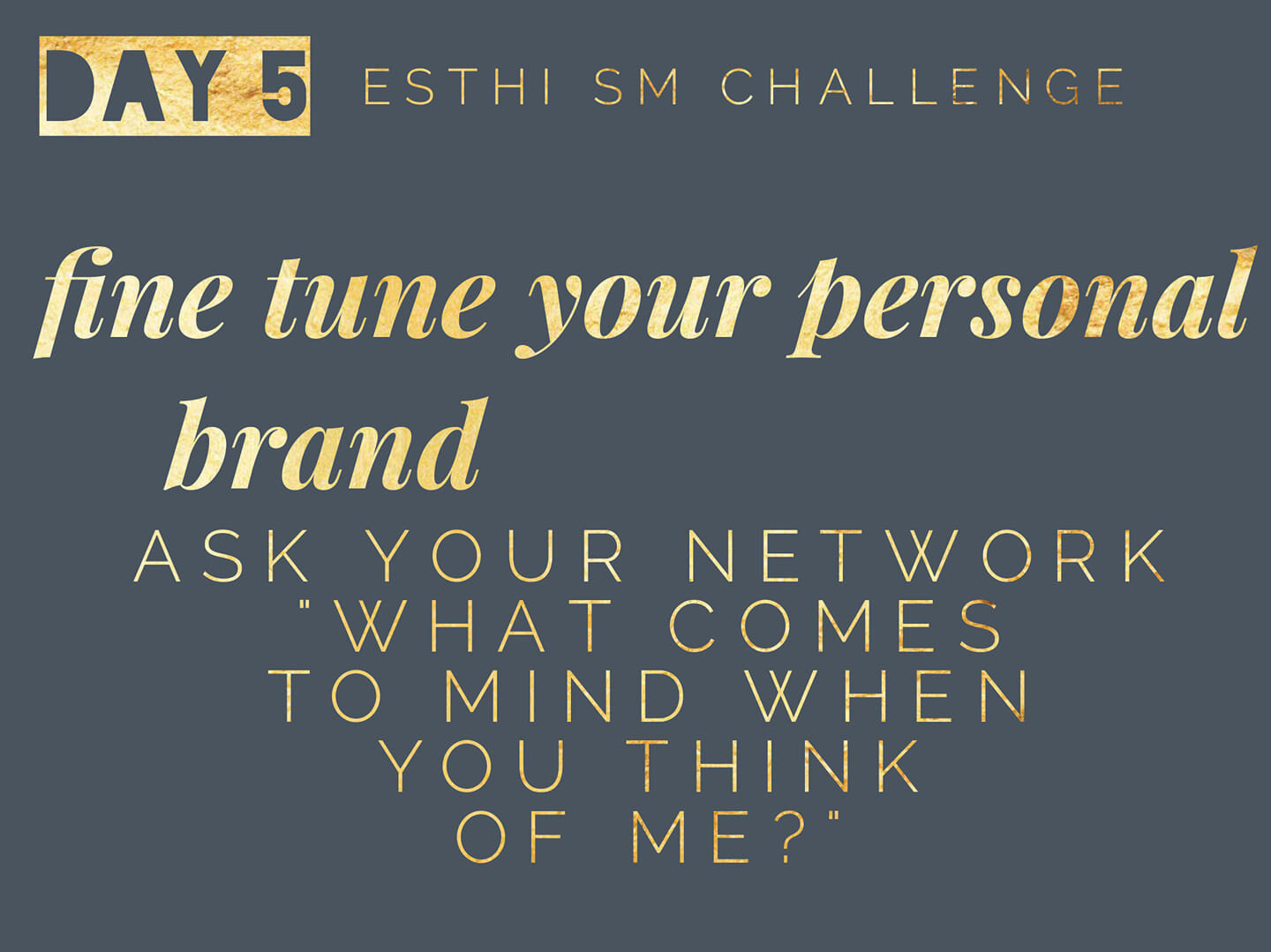 fine tune your personal brand
What is your ideal business vibe? Think about 2 years ahead from now. What do you want to be known for? What colors are your scheme?
How about starting that process today?!
It starts with awareness and an inventory of the "brand" you are putting off
💎 Task: ASK YOUR NETWORK "I'm curious and doing a little research, what comes to mind when you think of me?" --> this will be incredibly helpful feedback!
Also scroll through your timeline - memes and all - and ask yourself honestly - does it show who you want to be in your business?
That's not to say you can't "be yourself" on social media - but you have to ask yourself if being "your best self with a thriving business" is going to be WHO YOU ARE.
⭐ Low-vibe and negativity (complaining) often repels others from your page, your business, yourself
⭐ You can talk about hard things and touchy subjects - but use empathy and kindness with yourself and others - this can actually be very magnetizing when you stand in authenticity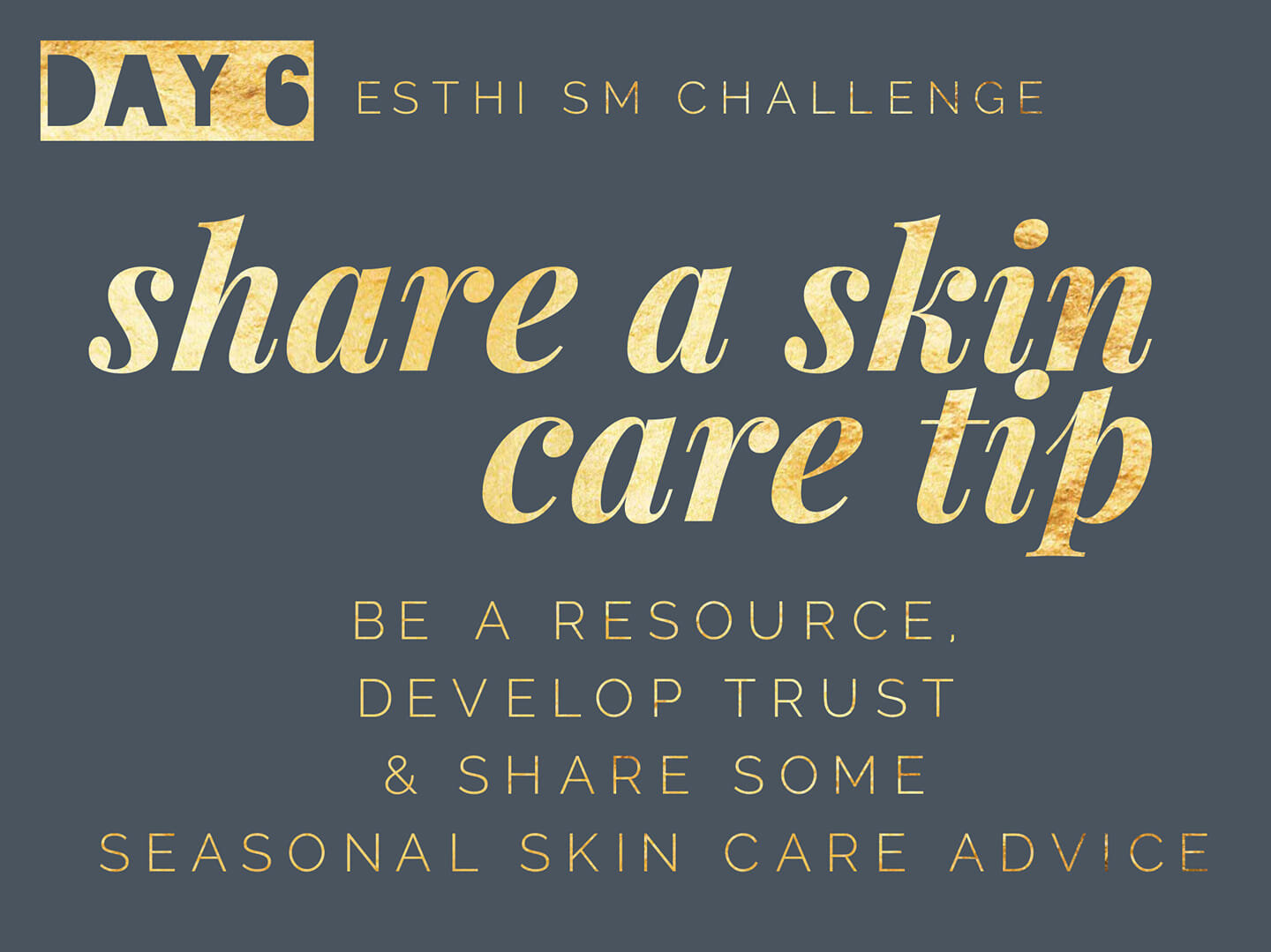 This post will position yourself as a trusted resource for skin care and helpful knowledge.
Make a post where you share a seasonal skin care tip. It can be simply -
"As the seasons change, you may want to consider switching to a heavier moisturizer than what you'd use in the summer time!"
Or
"As the trees shed their dead leaves, we should shed our dead skin! Exfoliating weekly keeps our skin healthy."
⭐ Post images seasonal items (Leaves, scarves) or products you recommend - just avoid corporate images if possible - studies have shown that they don't attract as much attention as even YOU holding the product in a selfie or it sitting on your bathroom counter, or your feet in fuzzy socks
⭐ If you have the ability to retail this product, don't say so in the main post - only mention it if someone asks! Definitely don't post links - the algorithm burries posts with external links (wait for someone to ask!)
Share a "soulful story" with your network.
Now I'm not talking about bearing your trauma or talking about when you decided to become baptized IF you don't feel inclined to share - I want you to give a snippet into your connection to Source and the Divine even if it is expressing gratitude about a hot cup of coffee you had in your favorite mug. ☕❤ Or how you get such warm fuzzies when your kids give sleepy snuggles.
- SHARE YOUR SENSE OF WONDER ⭐
We do a soulful share because WE KNOW that our guests are transformed from our services more than what appears on the outside - have you had a client cry because they've never loved their lashes so much and their reflection is healing? Or their facial allowed them to relax deeper than they had in years?
When you share your alignment and sensitivity to the beautiful moments in life, they will be more comfortable coming to you for their own magical transformation.
⭐ add a photo of yourself or something "lifestyle" - a peek into your daily life
⭐ ask a question at the end of your post like "does coffee in your favorite mug make YOU feel some kinda way? What else does?"
Do me a favor and don't think too long on this one. Take a deep breath, close your eyes and share what is on your heart.